While I'm recovering and unpacking I'll just post these reviews from my favourite paper The Guardian before blogging about it later:
Bestival 2011 - open thread: how was it for you?
Returned from the Isle of Wight yet? Then share with us your highlights of the last big festival of the summer …
Caspar Llewellyn Smith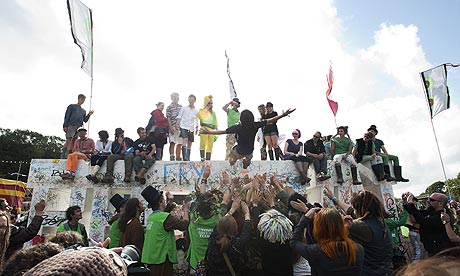 So, it's back to work and a more monochrome existence, now that
Bestival
– the last major festival of the summer – has ended. This feebly exhausted reveller actually scarpered from the site yesterday, catching the last ferry back from the Isle of Wight to the mainland, but by then I felt I'd done and seen enough to last me until at least next spring …
Mark Beaumont covered the whole shebang – from
Friday
through
Saturday
to
Sunday
– but personal highlights included, in no particular order:
• Bashment DJ crew the Heatwave's "Dancehall Master Class" on the small RizLab stage on Saturday afternoon, with a super-boisterous crowd learning how to palance, including several Michael Jackson lookalikes and, amazingly,
a Cookie Monster
…
And in a not too dissimilar vein, DJ Derek's set in the Swamp Shack on Sunday … Surely,
without Derek
, there'd never have been a Bristol music scene.
•
The Cure
, Public Enemy and Primal Scream's sets – all
superb
. Although, given the realisation that I first saw all three bands at least 20 years ago, maybe I'm just old …
• The sight of Omar Souleyman on the main stage on Sunday morning, absolutely tearing it up … I'd gone out on Saturday night dressed as the world's
favourite Syrian dabke singer
, but here, too, were at least 10 lads also got up to look just like him. Amazing. The best fancy dress I saw all weekend, apart from the couple wandering around with wooden houses strapped to the chests, and a front door that opened to reveal their specially made "The Doors – on tour, Bestival 2011" T-shirts.
• The delightful surroundings of the pop-up
Underground Restaurant
, for a spot of lunch on Saturday, just as the heavens opened.
• I could go on and on, but it's also worth noting, despite the squalls, the lack of mud. Oh, these things do make a difference.
Bestival 2011: Five things we did on Saturday
Mark Beaumont was wowed by the pop stars and divas in the fancy dress parade, ate lunch in a sinking pirate set, ruined some jeans and caught the Cure and PJ Harvey's Bestival sets

Mark Beaumont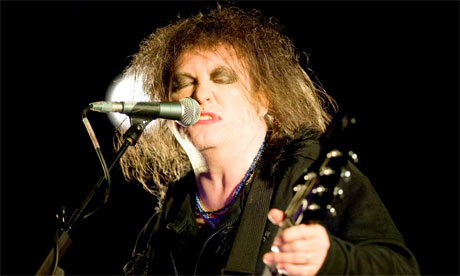 "It's Sunday," says Robert Smith, the high stage-front winds playing havoc with his spiderhair, his dry ice machine and possibly his diary pages too, "but it works." So goes the introduction to Friday, I'm In Love, tossed joyfully away in the middle of a
two and a half hour Cure set
few of us dared to dream of. Besides Pictures Of You, they played them all; the brooding masterpieces (Fascination Street, A Forest, The End Of The World, One Hundred Years) the shimmering synth shivers (Just Like Heaven, Plainsong) the edgy cult hits (Close To Me, Lullaby, Lovesong), and the all-out pop bangers (Why Can't I Be You?, Inbetween Days, The Lovecats). By the time the second encore took in a coterie of scratchy early numbers including Boys Don't Cry, Killing An Arab and its B-side 10.15 Saturday Night, the Cure had pulled off the epitome of the "festival set" akin to Bowie at Glastonbury 2000 or Macca at Glasto '04, and every bit as legendary. It was a show so perfectly constructed and immaculately representative of every phase and leaning of The Cure's career that it'll no doubt fuel more split speculation – it has after all been three years since the "second half" of last album 4:13 Dream failed to materialise. At a
Bestival
treated to far more melody than miserablism, though, all that mattered was that there wasn't a wet eye or glum gob in the house.
2. Eat lunch on a sinking pirate ship
The Underground Restaurant
in the Wishing Tree Field is not underground, but it is a restaurant, of an other-worldly hue. Pitched aslant to give the impression of a lilting hull, it's maître d' is a pirate and its house band is a harmonium duo playing sea shanty versions of Jackie, Creep and The Killing Moon. So why the hell is the place festooned with oversized bras and bloomers, decorated with chocolate box jars of home-made jams and staffed by pinafored 50s housewives? Either that or there are unannounced ingredients in the corn chowder soup starter. The pop-up brainchild of the people behind
The Supper Club
, it books months in advance to taste its shipwreck-themed cuisine; a
Stargazy Pie
of mackerel and vegetable dotted with fish heads and a Shipwreck Pavlova that comes complete with edible sails and a Jolly Roger. Catch it before it dissolves.